September 2017 News
September Greetings!
Hurricane Harvey Relief
Normally, these newsletters are filled with fun and exciting topics relating to the distillery, but last month, Hurricane Harvey hit the Houston area.  We were devastated.  I wanted to take a moment and reflect on that terrible disaster.  As I'm sure everyone is aware, an enormous amount of damage was done, and as with Katrina, lives were lost, an many people's lives will never be the same.  The process of recovery will be slow.  Rebuilding is only just now beginning, and will last for years to come. Many are asking, what can we do to help?
The DC area Food and Beverage companies, spearheaded by Brandon Skall at DC Brau, set up a relief page through the US Red Cross.  Catoctin Creek was happy to donate to this fund, and we hope you might consider doing so as well.  We're trying to raise $25,000 for the families in need in Texas.
You can learn more and donate, here.
Thanks for listening, and on with the newsletter...
--Scott
September is Virginia Spirits Month
All month long, we will celebrate September as Virginia Spirits Month! Restaurants all across the state will be showcasing cocktail menus featuring local Virginia distillers. (There are over 50 of them now!) Stop by and show your love by enjoying the finest craftsmanship Virginia has to offer!
Celebrate with us, and get a free "Virginia is for Lovers" trucker hat when you buy any bottle of Virginia-made spirits at participating ABC stores, while supplies last.
Rabble Rouser Release Day - September 9th! Noon. At the Tasting Room.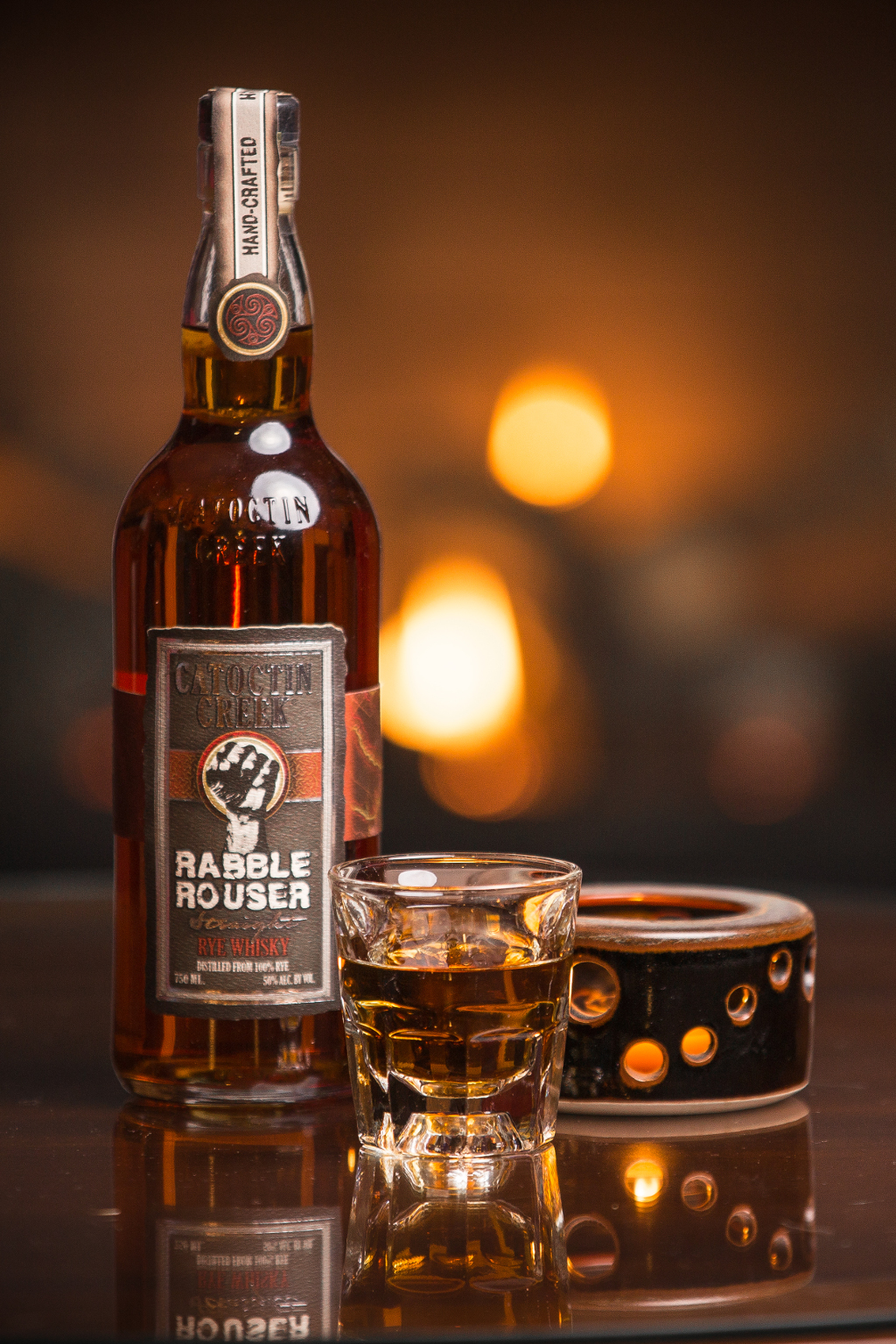 rab•ble-rous•er
noun
a person who speaks with the intention of inflaming the emotions of a crowd of people, typically for political reasons.
synonyms: agitator, troublemaker, instigator
––––––––
"[At four years old]... Catoctin Creek [is] one of just a few craft distilleries producing rye whiskey of that age."
– Jake Emen, Washington City Paper, May 22, 2015
––––––––
Rabble Rouser is the latest rye whisky offering from Catoctin Creek. Distilled from 100% rye, the Rabble Rouser differs from its cousin, Roundstone Rye, in that it is distilled at a lower proof, allowing lots of earthy goodness from the grain to come through in the spirit.
The whisky is aged for four years, making it among the oldest craft whiskey in the United States presently, and twice the legal age requirement for "straight rye whiskey."
"Whereas Roundstone Rye is sort of restrained and elegant," say Scott Harris, founder of the distillery, "Rabble Rouser is more unruly and vivacious."
Look for it to knock your socks off with release three in September 9, 2017 in the tasting room at noon.
Virginia ABC ordering code 27009; suggested retail price $95.99 per bottle. 50% ABV, 750 ml
50 States of Whiskey features Catoctin Creek
We were very pleased to feature in the Virginia episode of 50 States of Whiskey.  Imagine two guys, a car, and a mission: Visit a distillery in every one of the 50 states.  Then, make a movie about it.  That's what we have here.  Enjoy!
Read the full blog post, here. Or click the photo for a link to the video.
Cool events in September!
There are some amazing events planned for September and early October!  Check out the full list here. Be sure to join us for all the fun!   
Bottling Workshop
September 2, 10am. Catoctin Creek Distilling Company will conduct a BOTTLING DAY on Saturday, Aug. 12, at 10:00am. Volunteers wanted. Learn how to bottle, cap, seal, and label Roundstone Rye. Get your chance to work the magic "whisky cow"! Or maybe you'd like to try your hands at operating "Ninette", our fancy French labeling machine!  This event is FREE to attend!
Cocktails and Drams: "Alchemia Americano"
September 3, 1pm. Ever wonder about some of those unique ingredients used in cocktails? Well, here's your chance to learn how to properly make cocktails with some of them at home from a pro! You get to come in and learn in a real bar, and we will handle the setup and break-down for ya! Home bartending, but with tons of fun!!! #DrinkAsYouLearn (don't worry, we'll have notes for you to take with ya in case you "forget" a few things you drank or learned that night). We got ya covered.
Enjoy a festival of local music, wine, beer, and spirits
September 9, 12pm. Join Catoctin Creek Distilling Company for its second year in a row with the Spirits Festival at Belle Grove Plantation. Enjoy delicious Catoctin Creek whisky as well as spirits from other Virginia craft distillers, local wineries and craft breweries. Experience live music, great food, unique artisans & crafters plus a chance to compete in the annual corn hole tournament, raffles and mansion tours. All proceeds go to benefit the James Madison Belle Grove Foundation.
Dinner and Whiskey at Historic Aldie Mill
September 16, 6:30pm. NOW IN OUR SEVENTH YEAR!! Join us for a unique and intimate evening with old friends and new as we taste five exquisite whiskeys paired with delicious food, all in the historic 19th century Aldie Mill. This event is HUGELY popular, and space is extremely limited. We usually sell out by July, so do not miss your chance to enjoy this wonderful event! not to miss!! Dinner is priced at $99, and includes all four courses and cocktails.
Dinner at the Distillery
October 6, 7pm. Dinner will be a four-course affair, using seasonal produce and local suppliers, prepared by Chefs Wes Rosati and Maria Aros of The Wandering Chef. Enjoy a private tour of the distillery, while we personally craft cocktails expertly paired with your dinner! This will be a magical evening, and one not to miss!! Dinner is priced at $99, and includes all four courses and cocktails.
Cocktail of the Month – Mason Dixon Manhattan
A nod to the classic Manhattan with a southern twist. Wonderful cocktail to pair with traditional hors d'oeuvres or appetizer course.
2 oz Catoctin Creek Roundstone Rye Whiskey
½ oz Grand Marnier Cordon Rogue
¼ oz Broadbent Rainwater Madeira
1 wedge of orange
1 wedge of lemon
Build all spirits in a mixing glass. Squeeze and drop in both lemon and orange wedges. Add ice and stir well. Strain into a martini glass or coupe. Express oil of an orange twist into glass and/or onto the rim of glass and use twist as garnish.
Recipe courtesy Marilee and Matt Billingsley, Postbellum
See this cocktail and hundreds more on our cocktails page.
So Long For Now
As always, we thank you for your support as we continue to craft the finest spirits in Virginia. Please visit our Instagram, Facebook and Twitter pages, where you can stay up to date with the daily activities at the distillery. We are open every Tuesday through Sunday for tastings and bottle purchases, so stop by and see us sometime!
Cheers!
Scott & Becky